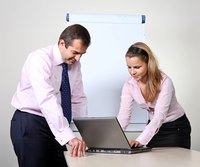 Making a business appointment is the first step in selling your business' products or services. You are selling yourself and the meeting itself more than anything else. Calling another business to schedule your first appointment can be stressful, but as long as you are properly prepared and confident in your approach, you will feel more relaxed and the experience will go more smoothly.
Prepare your opening statement. This is your main sales pitch for the appointment. You should type a short script that introduces you and your company, and briefly describes why you want an appointment.
Speak in a positive tone with words that will grab the listener's attention. This is best accomplished talking about the benefits you can offer.
Ask for a meeting. You want to present various options. For example, "What day next week will be good?" Another tactic: "Will Tuesday or Thursday be best for you?" This will increase the chances of gaining agreement.