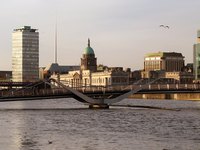 Registering to start a business in Ireland is simple. However, after you carry out the initial business registration, you also have to set up your company's tax system, register for Value-Added Tax (VAT) and file annual returns outlining your yearly accounts. All businesses in Ireland must comply with specific laws set up by the Irish government. According to the Central Statistics Office in Ireland, 82 percent of businesses in Ireland are small, meaning they have fewer than 50 workers.
Things You'll Need
CRO forms
Revenue Commissioners forms
Pick your business category. In Ireland you can register a business as a Foreign Company, Limited Partnership or simply as a Company.
Register your business name. Every business in Ireland must register a business name, including sole traders and large limited companies. The only place in Ireland where a business name can be registered is the Companies Registration Office, otherwise known as the CRO. The CRO is based in Dublin. If you are registering a business name as an individual, use CRO form RBN1. If you are registering a partnership, use form RBN1A and fill out form RBN1B is you are registering a corporation. These forms can either be mailed or submitted online at CRO.ie. It is less expensive to submit your business name registration online. As of 2010, the CRO states that online registration costs 20 euros and mail-in registration costs 40 euros. After the business is registered, the CRO will send you a registration certificate.
After you have chosen a business name, make sure that the rights to that name are not already in use by another Irish company. This can be done via the CRO website, utilizing the Company Search tool. Trademarked names can be searched via Ireland's Patent Office.
Display your business registration certificate and order appropriate stationery. All businesses in Ireland must display their registration certificates in a visible location. Businesses must also include their business names on all business-related paper, such as letters and business cards. Corporations must also print their registration numbers and use appropriate abbreviations. For example, "Ltd" is the only acceptable abbreviation for Limited, according to the CRO.
Register your company. After completing your business name registration, the CRO requires all Irish businesses to register a company using Form A1 and to submit a Memorandum of association. As of 2010 it costs 50 euros to submit Form A1 online and 100 euros by mail. Information on Form A1 and the specifics required of different types of companies can be found at CRO.ie. It takes approximately 15 business days for the CRO to register a company.
After you register your company, contact the Irish Revenue Office to set up a relevant tax system. If you are an individual company, you will be taxed under self-assessment, which includes PRSI contributions under class S. Incorporated companies are subject to corporation tax. PRSI is the tax that Ireland collects towards social insurance contributions and is separate from income tax. To register for taxes with the Revenue Commissioners, use form TR2.