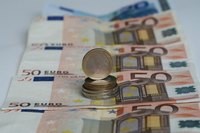 HSBC offers offshore bank accounts to citizens of more than 200 countries and territories, according to the company's website. Accounts are available in 14 different currencies including the euro. One type of euro savings account with HSBC is called the HSBC Serious Saver Account. The minimum deposit needed to open an HSBC Serious Saver Account is 10,000 euros.
Things You'll Need
Proof of address
Existing bank account statement
Obtain and complete an application. If you are not currently an HSBC client, contact HSBC and request that an application be mailed to you. Complete the application and sign it.
Provide proof of your identity. A certified copy of a valid passport or national ID card is necessary.
Show proof of your address. You must show two documents dated in the past three months as proof. Choices include your electric bill, mortgage statement, a driver's license, cable TV bill or a telephone bill. These documents do not have to be certified.
Submit a recent bank statement from a different account that you own.
Return the application and supporting documents to HSBC via the address listed on the application.