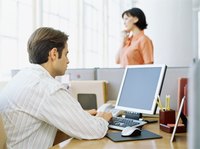 A federal Employer Identification Number (EIN) is required for all employers other than sole proprietorships with no employees other than the owner. The Internal Revenue Service (IRS) issues EINs as tax IDs. Because almost every business and other organization must have at least one EIN (many have several), employers' federal ID numbers are widely used to reference and find information about government, nonprofit and business organizations. In many cases you can look up an employer's federal ID number for free. There are situations in which you may have to pay a fee to a commercial listing service.
Things You'll Need
Examine your last W-2 form if it's your employer whose EIN you want. The EIN is printed to the right of your name in Box B. Many employers also list their EINs on pay stubs. Finally, you can contact your payroll department and ask for the EIN.
Look up an EIN for a publicly held company by going to their Investor Relations website and click on "SEC filings." Open any SEC filing document. The federal EIN must be listed on the first page of the document.
Use the SEC online EDGAR Forms and Filings database for publicly held companies if their EIN isn't available on their own website. The EDGAR system gives you access to all corporate SEC filings.
Utilize a commercial EIN database. For example, Knowl-X.com allows customers to search their EIN database for a small fee and without subscribing to their service. Dun & Bradstreet Selectory requires that you subscribe, as do many other database services. However, Selectory lists 14 million employers (as of 2010), so it may be the best choice if you will be looking up employer ID numbers frequently. However, if you only want to look up a couple of employers, look for special introductory offers. Quite often you can find one that will allow you to do several free searches.