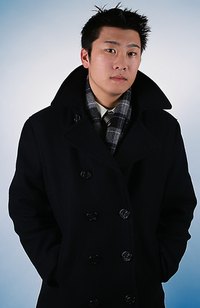 A man's overcoat can do more than protect him from wind and rain from his neck to below his knees; it can make a dashing addition to his wardrobe. As actors and others whose living depends on their appearance demonstrate in their overcoat choices, fit is king. Determining the correct size for an overcoat helps assure a suitable fit. Department stores and retailers specializing in menswear usually carry overcoats in short, long and regular lengths. Whether you're buying an overcoat for yourself or as a gift, straightforward size guidelines allow you to purchase an overcoat with confidence.
Things You'll Need
Suit jacket or sport coat that fits
Pen
Check the size of a ready-made sport coat or suit jacket that fits. This means that the jacket buttons and you--or he, if you're determining the overcoat size for someone else--can move your arms in it without straining any seams or feeling that the sleeves bind you. The size label is usually in an inside pocket, though it may be at the neck or on a seam. Hand-tailored or made-to-measure jackets won't have a size tag. Use a jacket with a manufacturer's label.
Make a note of the size. Men's jacket sizes appear as the chest measurement, which is a two-digit number, followed by the length: R for regular, S for short and L for long. The size will read 40R for a man of average height with a 40-inch chest.
Determining a man's overcoat size involves using his suit coat size. Overcoats fit over men's clothing, and the sizing allows them to be large enough to accommodate jackets or sweaters. For best results, purchase a size 40 overcoat for a man who wears a size 40 suit coat or sport jacket.
Try on some overcoats if possible, as cuts and sizes can vary from manufacturer to manufacturer.