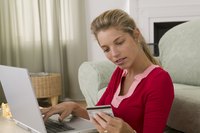 Virtually anything can be sold online with the technology now available. You can set up your own eShop in a very short time at reasonably low cost and start making sales. A profitable shop, however, will require some preparation and planning.
Domain Name and Hosting
First, decide what you're going to sell and select a name for your eShop. Your first expense will be to purchase a domain name and hosting service. Research to find a service that is user-friendly and reasonably priced. You can sometimes save money by bundling your services to include domain, hosting, email, security and other options.
Design and Build Your Store
To save time and money, consider open-source (free) software such as WordPress or a turnkey e-commerce package. E-commerce packages include shopping cart technology and provide instructions for connecting the cart to your merchant account. Before you start building, take some time to imagine your customer's experience. How do you want your store to look and feel? You can likely find a theme, or framework, that comes close to your vision. Themes and turnkey packages often include many design options, such as colors, fonts and page layouts that you can modify to suit your brand.
Secure Payment Methods
Set up a merchant account that accepts the standard methods of online payment, such as check, credit card and debit card. Be sure that you understand the various transaction fees and other charges that may be deducted from your sales. With so much identity theft occurring, your customers will look for reasonable assurance that your site is safe. Establish security controls for your site to minimize hacking. Display the security badge on payment pages so customers will feel more confident when entering their payment information.
eShop Policies and FAQs
Include policy statements on your site to explain common sales procedures, such as how to return a product or request a refund. Clearly state the parameters of money-back guarantees, discount codes and coupons, redemption of gift certificates, and other issues that may arise. Include a Frequently Asked Questions page if applicable and provide complete customer service contact information.
Product Options and Valuable Content
Create a catalog of product options for your customers' browsing pleasure. Also, continuously populate your site with new and relevant content to hold shoppers' interest and keep them coming back. The more time they spend on your site, the more likely they will buy.