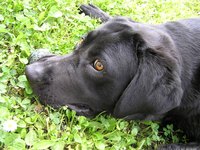 Canine massage significantly improves quality of life for older dogs, dogs suffering from arthritis or those who are recovering from an injury or surgery. Deep-tissue sports massage techniques can help to break up knots, increase synovial fluid, increase flexibility, decrease stress and lengthen connective tissue. If you've got a passion for dogs and you have worked with dogs before, service those dog owners who understand the value in dog massage by starting your own practice.
Things You'll Need
Business license
Canine massage license
Pet CPR and first aid certification
Liability insurance
Verify demand in your town or city by conducting market research. Visit dog parks, dog washes, veterinarian offices and other canine-friendly businesses to get an idea of the size of your target demographic and to interview pet owners about their interest in canine massage. As well, use the American Veterinary Medical Association's pet owner calculator and human population statistics from the Census Bureau to help you determine the percentage of households in your town that have dogs. If a canine massage practice already exists in your town, study it, taking note of the services offered, staff, client size and pricing.
Become a certified canine massage therapist by attending a school or investing in a home-study program. While there is no formal state licensing requirement, obtaining a training program certification will give you the skills and credibility needed to succeed. Learn basic anatomy and muscle function, pet first aid and CPR, how to work with various breeds and sizes and massage techniques from a certifying school. Visit the International Association of Animal Massage and Bodywork for a list of schools around the nation. Many of these schools offer business advice on obtaining clients and marketing your practice. Keep that in mind when selecting a school.
Consult with an attorney to help you select a business entity for your practice, such as a partnership (if applicable) or limited liability company. When selecting your entity, consider whether you intend to hire employees to help you run the office or more therapists once your practice grows. You'll need to register your business with your county clerk and your state's Secretary of State.
Contact your current insurance provider to get connected with an insurance agent that is familiar with insuring massage therapists. Not only will insurance protect your business in the event that an owner sues you, it demonstrates to future clients that you are trustworthy, legitimate and professional.
Set up your home office. When first starting your practice, there is little need to rent commercial space, since you will be conducting your massages on site, at the owner's home or at a doggy day care. Establish and measure your home office, which will be used to for tax purposes. Invest in accounting software such as QuickBooks or Quicken to help you keep track of your expenses, payroll and appointments.
Consider offering massage classes to interested pet owners as a way to supplement your income. Until you establish yourself within the community, it may be financially expedient to offer dog walking or day care to supplement your income and further get your name out there.