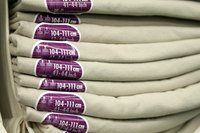 Folding T-shirts can often be the most difficult part of doing the laundry. It can be hard to fold the shirts in a simple and uniform way. One remedy to this problem is to use a shirt folding board. Shirt folding boards are used in clothing stores to fold the T-shirts that are for sale. Although it can be hard to find a folding board to buy for home use, it is easy to make an inexpensive and personalized homemade shirt folding board. Using common crafting supplies, anybody can make a board for folding T-shirts.
Things You'll Need
Magazine pages
Clear packaging tape
Making the Folding Board
Cut out a rectangular piece of cardboard 12 inches wide and 18 inches long. Cut out decorative pictures from a magazine.
Tape the magazine pictures all over both sides of the board, covering the entire surface of the cardboard piece.
Cut a piece of clear packaging tape 25 inches long and wrap it horizontally around the top of the board.
Continue cutting 25 inch pieces of tape and wrapping them around the board horizontally until the entire board is covered.
Using the Folding Board
Lay the T-shirt flat on a table, facedown. Place the folding board on top of the T-shirt, lining up one of the 12-inch edges just below the bottom of the shirt collar.
Fold the left side of the shirt over the board, keeping the board in its place.
Fold the right side of the shirt over the board in the same manner as the left.
Fold up the bottom of the shirt so that it lines up with the top edge of the shirt.
Slide the folding board out of the folded shirt.