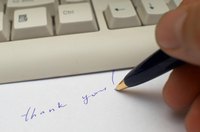 Saying thank you to your employees builds loyalty, increases productivity and sets you apart from other employees--according to the Microsoft Small Business Center, a Maritz poll found that more than half of all employees said their bosses never or seldom took the time to thank them for a job well done. Though a verbal thanks can go a long way, a written thank you note really sends the message that you appreciate your employee's efforts.
Write your thank you note by hand, even if you don't have great handwriting. A typed or printed note feels less personal than a handwritten one.
Keep it short and to the point. A business thank you note doesn't need to be longer than 100 words, according to the North Carolina Office of State Personnel.
Start by greeting the employee by her first name. You can use a formal greeting, like "Dear Alice" or just start with a more casual "Alice."
Write clear, succinct sentence or two thanking your employee for a specific effort. Write "I wanted to let you know how much I appreciate your hard work on the Johnson presentation" or "Thank you for updating your department's procedure manual."
Pass on any praise from clients or higher-ups in the company. Write something like "Our department heads were amazed the project was completed so quickly" or "Mr. Johnson told me your presentation was one of the most impressive he's seen."
Wrap up with a reiteration of your appreciation, like "Thanks again" or "I appreciate your hard work" or "Thank you for making the company look good."
Sign your first name at the end of the letter. You can sign off with a traditional conclusion, like "Sincerely" or "Yours truly," or just write your name.