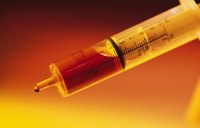 A blood glucose test is a diagnostic screening tool for diabetes, pre-diabetes, and hypoglycemia. Certain procedures must be followed to ensure an accurate test result. Most importantly, patients are expected to fast (go without food) for a designated amount of time before having their blood drawn. The results will fall into one of three categories: normal, pre-diabetic, or diabetic.
Instructions
Discuss the blood glucose test with a physician. Plan on a date and time to have your blood drawn at the lab.
Fast for at least 12 hours before your blood sample collection. Only medication and water are allowed during the fast.
Tell the registration person at the lab about any medications that were taken during the 12-hour fast. Some medications can interfere with the accuracy of test results. They will determine if any of your medications will affect the results.
Allow the lab staff to collect a blood sample. Immediately afterwards, it is fine to begin eating and drinking as normal.
Wait to hear from your doctor about the results of the test. Depending on the facility, it may take up to a week to receive results. Many physicians only contact patients who have abnormal lab results. For patients monitoring chronic illnesses such as diabetes, however, most physicians will follow up to let them know how well they are managing the disease.
If you haven't received your results within two weeks of the test, contact your physician's office. Discuss any questions or concerns with your physician. Blood glucose test results are interpreted differently depending on the test administered.