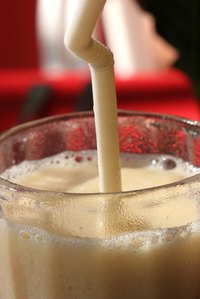 Although having loose dentures or loose teeth is a serious problem and requires a soft diet, people with these conditions can eat many foods that are restricted from the diets of those with digestive or swallowing disorders. As long as the food is cut, mashed or pureed adequately, a person with loose teeth can eat anything that anyone else can eat. Preparation is easy, with just a little trial and error needed to find the size of cut that is tolerated.
Things You'll Need
Chop food into very small pieces. Some raw foods, such as fruits and vegetables, contain important nutrients and fiber in their raw state, so chopping will retain the maximum amount of the vitamins and minerals available. If meats are chopped or minced to a small enough consistency, they may be eaten without further processing.

Cook fruits and vegetables thoroughly. Test the foods by piercing them with the tip of a sharp knife or a fork. If the knife or fork goes in easily, the food is ready. Experiment to see whether the food can be eaten once it is cooked or whether it will need additional mashing.
Mash foods with the back of a fork or with a spoon. Some foods, such as avocados and bananas, can be mashed raw, whereas others need to be cooked completely before mashing. Mashing is most easily done on a flat surface, such as a plate, or in a large bowl.

Use a blender to puree any foods to the desired consistency. Meats, vegetables and fruits can all be ground or pureed to a consistency that will work. Experiment with the different blender settings to find the setting that works best.