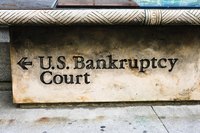 A Chapter 11 bankruptcy is often referred to as a "reorganization" bankruptcy and may be used by individuals or businesses who find themselves in financial trouble. Part of the Chapter 11 filing requires submitting a written plan for reorganization detailing the individual's financial situation and the terms for making repayment to creditors. Knowing what information to include is essential to understanding how to write a Chapter 11 bankruptcy plan.
Things You'll Need
List of all creditors and outstanding debts
List of all assets
Statement of current financial situation
Current income statements
Expense statements
For each creditor included in the filing, classify each as secured, unsecured priority, general unsecured, or equity security holders. Priority debts are treated separately under the bankruptcy code and include taxes or other administrative costs. Secured debts are those that are backed by collateral, such as real estate, and unsecured debts are those that are not backed by collateral, such as a line of credit. This classification establishes the order in which debts will be repaid and is subject to approval by each class of creditors.
After classifying your creditors' claims, you must determine which debts will be repaid in full and which may be repaid in part. Priority debts must be repaid first and in full. Secured debts must generally be repaid in full to maintain the associated collateral. For unsecured debts that will not be repaid in full, creditors are assigned an "impaired" status and they have the right to vote whether or not to accept the reorganization plan.
Determine what portion of post-petition income will be dedicated to repayment, keeping in mind that there is no time limit on repayment under Chapter 11. As there is no means test, this may be part of all of future income or earnings from provision of services. Compare current income to current expenses to determine what percentage of earnings may be used as disposable income and divide total debt by this amount. This will provide an estimate of how long it will take to complete the repayment plan and may be adjusted to shorten or lengthen the repayment period.
Prepare a financial disclosure statement. This statement must contain relevant information concerning assets and liabilities, a summary of business affairs if applicable, and supporting evidence to verify that a reorganization is achievable. The court must determine that there are sufficient means for debt repayment before presenting the plan to creditors.
If you choose to modify your plan after its initial submission, any modifications must be made in accordance with the bankruptcy code. If the court finds that the modified plan does not propose an adverse risk to creditors, it may be approved without a second vote. If any party files an objection to an existing or modified plan, the court must hold a hearing to confirm the plan.