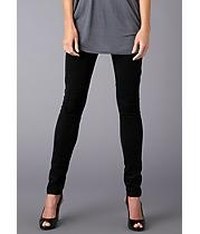 Black leggings are a classic from the '80s that have made the ultimate comeback. They have become popular again and with good reason: They are comfortable and sleek -- and they hide defects when you wear them properly. Because of their versatility, it looks like black leggings are here to stay this time around. These basics will fill you in on how to wear black leggings.
Things You'll Need
Pair your black leggings with a top that is long enough to cover your hips and rear. Known as tunics, these tops come in different lengths. For a balanced look with your leggings, choose a tunic that comes past your hips but stops no lower than halfway down your thighs. Since black leggings match with just about any color, go with whatever colors flatter you or are best suited for your purpose.
Wear shoes that fit the look you are going for. A casual look calls for flats, while pumps or boots give leggings and a tunic a dressier look.
Accessorize further with a fresh and modern handbag and appropriate jewelry. A scarf or belt can also add a nice touch - just be sure to use one or the other, never both.