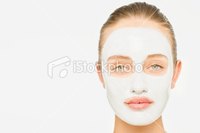 Everyone desires a glowing complexion. Unfortunately, blemishes, breakouts, clogged pores, dullness, dryness or roughened texture are common concerns. Environmental pollutants further contribute to the problems that most face in their quest for attractive skin. Your face is usually the first feature that others see and the one that they are most likely to remember, so making a good impression is important.
Things You'll Need
Almonds
Sunflower seeds
Pumpkin seeds
Food processor
Bowl
Dried oats
Honey
Mayonnaise
Spoon
Grind one tbsp. of almonds and one tsp. of each of the seeds in a food processor until you obtain a coarse, powdery texture. Place the powder in a bowl and add one-eighth of a cup of dried oats, one tbsp. of honey and two tbsp. of mayonnaise. Mix well.
Apply the resulting cream to your face in a thin layer and allow it to remain on your face for seven minutes. Your body's natural temperature will dissolve the mayonnaise and allow the nutrients in the ingredients to seep into your pores.
Use your fingertips to gently massage your face in a rotating motion for three minutes. Old skin cells, embedded dirt, clogging oils and accumulated debris will detach themselves from your face and slough off easily.
Rinse your face with plain warm water and cleanse your face as you normally would. Pat your skin dry with a clean cloth. Your skin will have a healthy glow due to improved circulation, feel smoother, and your pores will be clean and toned. In sixty days or less, your face will look healthy and completely refreshed.