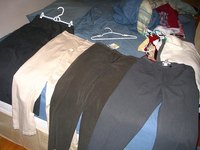 Apartment hunting is never easy, and there are always a lot of questions and possible problems that can follow. Making a good impression while apartment hunting is a critical part of being able to land that ideal apartment. Nothing can overcome the power of a first impression, and that's why it's critical
Things You'll Need
Internet connection
Local classifieds for apartments
Good dress clothes
Some good solid questions prepared
The first step is to dress the part. No matter what the credit scores say or the rental applications, first impressions can make or break you. Dress business casual. This way you will look nice and respectable, but not overly dressed. No matter what people say, there is always a human element to renting, and passing the eye test is a very important step one.
Be polite. Being haughty doesn't do any good. If you were "that" wealthy, you wouldn't need to rent. Be polite and respectable, and if they don't reciprocate, then look for another apartment complex. Generally, a good attitude with decent dress can overcome a lot of things (I've had a rental manager tell me more than once that my mediocre credit score could have sunk things if I had not made a good first impression). If the renters want to like you, they'll look for every reason to rent to you.
Give the apartment a good look over. Little things can make an impression. Check cupboard space, take a look at the view out the windows, and don't be afraid to flush the toilet to make sure the plumbing is solid. Ask about whether the heat is electric or gas, or any other similar questions that come up. This will show that you're truly interested in the apartment and have intelligent questions to show it.
Always give thanks at the end. Thank the people who gave you a tour, the office ladies that handed you an application, anyone who helped you check out the apartment you were interested in. Begin with a good impression, and leave with one as well. Follow these steps and you will be surprised how often that good impression while apartment hunting can lead to a quality lease.