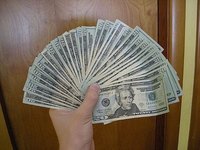 If you have extra cash in your brokerage account, you can make money on a monthly basis by selling cash secured puts. When you sell a put, you give someone the right to sell to you stock at a certain price called the strike price. In exchange for giving them this right, you receive a premium which will vary depending upon the volatility of the stock and the length of the contract. Sometimes an upcoming earnings announcement will also influence the amount of premium for the put option.
Things You'll Need
Brokerage account approved for selling puts
Available cash in the brokerage account
Identify a stock that is in a well defined uptrend with an identifiable line of support. Alternatively, you could identify a stock that is trading sideways, but it should have clear levels of support.
Make sure that the stock has options available. If not, you will have to repeat step 1 until the stock you have identified has available options.
Identify the price of support for the stock that you have selected. The price may not be an exact price but rather a narrow range within a percentage point or two.

Look at the options table for the stock and find a strike price that is near the support price that you have identified. The strike price should be either just above or just below the support price.
Look at the options expiring within the next 30-45 days. When selling puts, you want to sell the nearer term options so that you are not exposed to market risk for longer periods of time. You don't want to give the trend time to reverse itself prior to making your profits.
Sell the put option that you have identified using a limit order making sure that you have enough purchasing power to fulfill your obligation to purchase the stock should it decline below the strike price. Collect the premium.