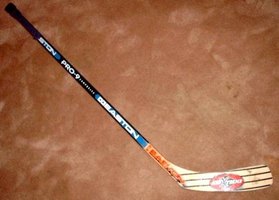 If you have an aluminum or alloy hockey stick with a broken wood or fiberglass blade, you can replace the blade on your own. You won't need much equipment, but you'll want to be very careful when heating the stick for replacement.
Things You'll Need
New blade with glue on the hosel (the part that fits into the stick) Heat gun (NOT a hair dryer) Vise
Put the remaining piece of the broken blade in the vise and tighten firmly.

Set your heat gun to 1,000 degrees (the maximum temperature on most heat guns) and heat the 3 inches of shaft closest to the blade. Make sure to heat all sides. It should take about a minute to get the shaft hot enough to work with.

Continue to heat the shaft as you pull on it to separate it from the blade. Be careful: The bottom end of the shaft will be very hot.

Remove the broken shaft from the vise and replace it with the new one. Tighten firmly, but not so much you risk cracking the blade.

Heat the glue on all sides of the hosel until it starts to bubble. Do not overheat the glue or it will drip off.

Slide the shaft onto the hosel, heating the glue slightly if the shaft sticks.

Allow the glue to harden for at least 10 minutes before using the stick.
Tips & Warnings
If the blade is broken right at the hosel and there is not enough stick left to grab with the vise, do the following: Drill a long, narrow screw part way into the hosel parallel to the shaft. Leave an inch of the screw exposed. Put the head of the screw in the vise and begin the instructions from Step 2.
Photo Credit http://images.google.com/imgres?imgurl=http://www.keywesthockey.com/hockeystick.jpg&imgrefurl=http://www.keywesthockey.com/gear.html&usg=__uxIlaHs37Ugv0XeiyCSrnbafZYg=&h=480&w=640&sz=69&hl=en&start=1&um=1&tbnid=5Nlrbd26ZLA3vM:&tbnh=103&tbnw=137&prev=/images%3Fq%3Daluminum%2Bhockey%2Bstick%26hl%3Den%26sa%3DG%26um%3D1
Promoted By Zergnet