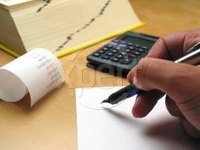 Having an effective payroll system is key to ensuring employees are paid on a timely and accurate basis. In order to do so, companies often purchase software that processes payroll through a computerized system. However, it is possible to avoid this expense. Many organizations successfully use a manual payroll system. However, this approach requires meticulous set-up in order to function properly. Here are some guidelines to ensure this happens.
Things You'll Need
Tape calculator
IRS withholding tax tables
Establish a timecard system where employees fill out a timesheet or use a timeclock. Use timesheets that contain unfilled slots for regular, vacation, personal and/or sick time. Create a separate filing system for all timecards submitted. If you have salaried employees, create a log with the salary amount each employee should be paid each pay-period. Keep separate files for hourly and salaried employees.
Generate a file folder for change forms submitted each pay date. This includes address and tax changes, pay adjustments, benefits and deduction changes, such as 401k, medical, dental, car allowance, garnishments, child support and cafeteria plans. Additionally, create a payroll log for each employee. Outline all the pay periods for the year and all salary, deductions and benefits to be made on each pay-period.
Accumulate blank checks to print paychecks. A typewriter can be used to manually enter the information on each paycheck. Ensure that the typewriter has sufficient ink so checks will be legible and appear professional. Also, try to invest in a typewriter with an erase feature to prevent retyping and reprinting of checks. A good photocopier will also prove worthwhile, so you can make copies of each check printed.
Set up a tax recording system. During the payroll run, you will have to manually calculate the taxes due to each employee and to the employer. Have a separate log for taxes deducted for each individual and the total employer taxes for each pay-period. At the end of each quarter and year, you will need this information to balance your 941s (quarterly) and W2s (yearly), so be sure to maintain accurate records.
Generate payroll registers to coincide with paychecks distributed. Registers should include type of hours paid and all deduction and benefits amounts. Create journals to log all payroll transactions, including all checks cashed and those still pending. You will need these for bank reconciliations to ensure that the amounts cashed and all outstanding amounts match your deposit amounts (taxes included).