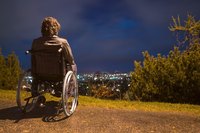 Long-term disability insurance provides income when you can no longer work because of an injury or illness. The payments typically equal 50 percent to 60 percent of your income before you became disabled and are usually capped at a certain amount. If an insurance company denies your disability claim, you have 180 days to file an appeal. By following a set of procedures, and sticking with it, you may be able to overturn a denial and receive benefits.
Read and Understand the Documents
The first step in the appeal process is to get a copy of your insurance policy if you don't already have one. By law, your plan administrator must provide you with a complete copy of your plan, including the summary plan description. Once you have determined that you have grounds for an appeal, put your appeal request in writing so that you can maintain a record of correspondence with your human resources administrator or directly with the insurance company. Pay attention to deadlines and other dates. Failure to comply with deadlines and other insurance rules may result in an automatic denial of your claim.
Follow Directions
Carefully review the denial letter you received and compare it to the relevant portions of your policy. The denial letter will provide you with information about the next step in the appeal process. You don't need to hire an attorney to file an appeal. However, the Nolo legal website says insurance companies often give more credence to appeals from lawyers. If you do hire an attorney, he will know how to get extensions for deadlines and how to strictly follow the insurer's directions. Insurance companies have 45 days to respond to an appeal, as well as an option for two 30-day extensions. A lawyer can prepare to file a lawsuit against the insurance company if you don't get a response within the allotted time period. This places your appeal in the hands of a judge to determine your eligibility for benefits -- not the insurance company.
Review Documentation
Find out which medical records were obtained by the insurance company that denied your claim. If any records were missing from the insurance company's file, send them by certified mail to the insurer to ensure they were received. Contact the insurance company see if there are any tests you can undergo to satisfy its questions about your disability, such as X-rays and blood tests. Supplement your case file with letters from friends, family members and coworkers that support your disability claim. Get a vocational expert, who knows which kinds of disabilities affect the work you do, to verify your claim by writing a letter to the insurer.
Pay Your Doctor for Further Documentation
Doctors usually charge a small fee to write letters for long-term disability claims. These letters are among the most powerful tools you can bring to bear on your appeal and are worth the investment. If your doctor refuses to cooperate, set up an appointment with another doctor who might support your claim. Keep in mind that insurance companies often send their own doctors out to examine you and review your medical files. Insurance companies then rely on their doctors' opinions about your ability to return to work. Once you've exhausted the appeal process, you must bring your case to a judge in a U.S. District Court.