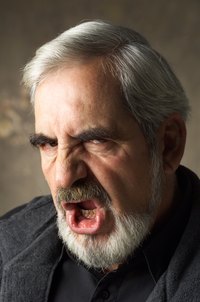 When we talk to an angry person, our verbal and nonverbal language helps to direct whether they escalate and become angrier or deescalate and calm down. We hear too often in the news about people who were out of control and a crisis developed where people were hurt. We cannot give ourselves any guarantees, however, we can put the odds in our favor and help to make sure everyone is safe.
When you talk to an angry person, remember how their mind and body will respond. As anger escalates, people tend to go into a fight or flight mode. When that happens, their thought processes slow down, but their sensory acuity increases. They tend to perceive things as closer, louder, larger, more threatening, etc. They also just really want to vent and to be heard, It is crucial that we keep these things in mind and use this knowledge to guide our own actions.
Be a good judge of when to get help. If you have the least bit of concern, make sure you are not alone and that you have an escape route. People can sometimes escalate very quickly. Do not try to handle an angry person all alone. If you talk to an angry person it is always best to err on the side of caution. These steps are not intended to imply that you can always talk someone down and they are also not the only interventions. Use your own good judgment.
Beware of nonverbal language. Remember the saying that actions speak louder than words? If you talk to an angry person, give them extra physical space. Refrain from talking with your hands. Do not lean toward them. Someone being too close or hands moving can be perceived as threatening since this is a person who is upset and is possibly not thinking rationally.
Speak in a calm, quiet, pleasant tone of voice and at a slower rate of speed. It is natural to mirror the emotions of the people we talk to. However, if we mirror their emotion by raising our voice or getting upset (which would be a natural thing to do) then we have just helped to escalate a potentially dangerous situation. Lower your voice and speak in a calmer, quieter tone and they will be more apt to mirror you. Also, when people are upset, their comprehension tends to decrease. Speaking slightly slower will help them to listen to what you are saying. When this happens you are guiding how the situation develops and you are helping to prevent a crisis.
Listen to them and validate their feelings. Often, people who are upset just want to be heard. The more they feel like people are not really hearing them and addressing their needs, the louder they will shout. Unfortunately, there are times when they escalate to weapons or other violence to be heard. No matter what they are saying, listen. Given them your undivided attention. Acknowledge their concerns. However, do not be judgmental! Do not say "I can tell you are angry." Statements that label their feelings may tend to upset them even more. Instead, say "what I think I hear you saying is ...." or something similar.
Respond by verbally "disarming" them when you talk to an angry person. Be responsive. What they really want is for someone to hear them and to validate their feelings and make everything right again. Say something that you are comfortable with that is a positive response. This could be "I agree" or "You have a right to want to exchange/get treatment..." whatever they want. If you see a person escalating, let them know that you are going to try to get them the assistance they want.