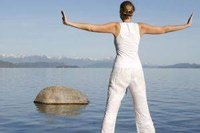 A full body makeover involves changes in different levels--it improves your fitness level while making you feel stronger. It's a mind, body and soul endeavor. It revitalizes your core body, which helps you in your daily living activities. In addition, it makes you look more fit and healthy.
Things You'll Need
Enroll in a workout class. When you exercise, you are not only improving the way you look, you are also taking steps towards becoming healthy. Kickboxing is an intense workout that combines aerobic exercise and martial arts. It increases your energy throughout the day, making your body feel rejuvenated. Yoga is also beneficial because it involves stretches that improve your blood circulation.
Get a full physical check-up. You want to be sure that everything inside you is working properly. Doctors can assess if you have a certain condition, such as fatigue or anemia.
Use lotion to hydrate yourself. A full body makeover involves being healthy inside and outside. Drink plenty of fluids--water and fruit juices give you an energy boost. Hydrating your skin with lotion makes you feel luxurious.
Walk more. Walking does not only give you an extra workout to complement your exercise class, it also helps you become more aware of your body. It takes a lot of internal meditation to stick to your plan for a full makeover. When walking, think about how you use your legs, and how your hands feel as they swing freely when you walk. Appreciate how strong your legs are, how fortunate you are to have able arms.
Get a massage. If you don't know a local masseuse, you can buy a massager. Massagers can be wooden, plastic or electric. These usually have grooves in them to add pressure as you glide them along your body. Target areas such as neck, shoulders and lower back.
Eat right. Stock up on vegetables and take some multivitamins. You need to replenish nutrients that your body excretes everyday. You can satisfy your cravings through minding portions. To help you get through the day, snack on nuts such as almonds and fruits such as blueberries. These foods have antioxidants that can help you ward off diseases such as cancer.
Make sure that you get enough sleep. WedMD recommends that you get at least 7 to 8 hours of sleep. Giving your body enough rest is critical in a full body makeover, because if you don't get enough rest, you are more likely to overeat as your body compensates for the lack of energy.
Curb bad habits. A full body makeover is about improving your body for a healthier you, but it can be difficult to completely let go of a habit. You should take baby steps to change your ways, and get a friend to be your ally. If you have a sweet tooth, you should limit your intake of refined sweets by eating more fruits and giving yourself the option to eat one sweet a day. Do this until you can replace the sweets with fruits. This way, you are training your body to crave fruit to satisfy your sweet tooth instead of candies or cakes.