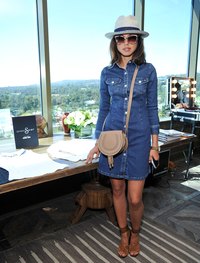 In Britain, small but ornate hats are called fascinators, and while this refers to a specific type of chapeau, it also reveals a lot about hats in general. The right piece, carefully selected to set off your outfit and flatter your face, can truly fascinate the eye. Just as certain types of clothing looks best on specific body types, your face shape complements some hats better than others. Don't fret over your options; each shape pairs swimmingly with a whole millinery full of hats.
Well-Rounded
Round faces pair particularly well with short brims and high crowns, which lend a sleek look. For something more edgy, opt for an asymmetrical topper. Get to know the classic wool fedora, whether you're a man going full retro at an autumn opera or a woman pairing it with with sunglasses and cutoffs at a rock concert.The similar, but somewhat more modern, trilby also works for the same reasons, as does the unisex pork pie style. For ladies who love retro, nail the '20s look with a flapper-esque cloche.
Oblong Toppers
Oval faces, which have the same curves as a round face with a bit more length, can pull off just about any hat in the shop. For this face shape, the world is your millinery, so experiment with styles until you find your favorites. If your visage is a bit longer or has more definition than the standard oval, wide brims are your best friend. Choose a style with a flat crown, such as a felt floppy hat or large-brimmed sunhat for a balanced look. The bucket hat caters to both sexes, while the slope-brimmed crusher hat makes for a more masculine and rugged vibe.
Square Styles
Sometimes, the key to complementing your face shape lies in creating contrast. Seek hats with soft, curved shapes to bring out the best in an well-angled face. Square-faced men and women can both rock upturned brims beautifully, and they can also sport the elusive beret. The curvy and classic bowler harmonizes well with square faces, as does the rounded beanie, both of which cater to men and women alike.
Hearts With Hats
Rounded cheeks and a defined jawline make for a heart-shaped face, also called the inverted triangle. Make your features pop by donning an asymmetrical hat. For formal affairs, dare to be bold with a small and ornate fascinator. Similarly, you can break out the vintage pillbox for special occasions. Brimmed hats with medium crowns flatter both gals and guys, making the fedora and trilby dependable choices.