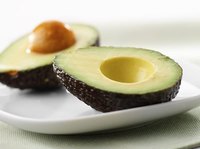 Avocado has the ability to nourish your body and it can also help your skin as a natural moisturizer. Avocado oil contains vitamins A, C, E and K, which help improve overall skin health and give a supple glow. Avocado has been known to be a multi-purpose beauty essential that nurtures skin without the chemical additives that can be found in conventional over-the-counter beauty products.
Things You'll Need
1 egg
1/2 cup whole milk
1 avocado
Bowl
Blender or fork
Water
Carefully choose your ingredients. The higher quality your ingredients, the more benefits your skin will receive. To ensure high quality, seek terms on the label such as "organic" and "raw."
Remove the flesh from the avocado and put it in a bowl. The flesh is the smooth, creamy green-yellow to golden-yellow portion inside the skin. Dispose of the skin and the pit.
Crack a raw egg and place the entire egg white and yolk into the bowl with the avocado flesh.
Add the milk to the bowl. Use a fork or a blender to mix all the ingredients until the mixture is smooth and homogeneous.
Apply the mixture all over your face and rub it in for two to three minutes.
Use warm water to rinse off the mixture. Pat your face dry with a towel and then apply a daily moisturizer to skin.