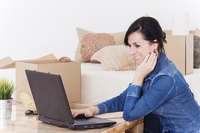 The Internet offers full-time and part-time entrepreneurs alike the opportunity to make money by selling online. Numerous websites, from Amazon and Etsy to Clickbank and Fiverr, provide options for you to sell products or services through their platforms. While making money online does involve a certain amount of luck -- the Flappy Bird game owes its success to going viral -- you can convert physical products and skills into an online-based revenue stream.
Arts, Crafts and Clothing
Online arts, crafts and clothing sales represent a thriving, multi-billion dollar market. The potential products for this market are limited mostly by the scope of your creativity. If you make jewelry, crochet hats or build furniture, you can sell it online. Even aspiring fashion designers can test their new creations online and make some money in the process.
Information Products
If you have specialized knowledge or a transferable skill, you can sell information products in a variety of forms. If you have a talent for writing, an eBook offers a straightforward way to convert your knowledge into a saleable product. You also can develop webinars, e-courses or video series to teach skills. An accountant, for example, could develop an e-course that teaches basic money management, while a graphic artist could develop a primer course on using photo editing software or design principles.
Freelance Services
Large businesses typically maintain a staff for communications, graphic design and human resources. Smaller businesses, however, often outsource these services on an as-needed basis. Writers, artists, and even human resources experts can offer their services to businesses on a project-by-project basis with nothing more than a basic website and contact information. Serious amateur photographers can make the jump into the professional market by providing wedding photography services or freelancing to local businesses. A website that includes a portfolio can serve as the main marketing portal for the service.
Photographs
In addition to providing freelance services directly to customers or businesses, photographers also can sell their images online through third-party sites. Businesses, news outlets and bloggers all look for images to use online and, in many cases, buy images when they cannot find free ones. By posting your images through third-party sites, your work becomes available to the entire Internet and at the prices you set.
Mobile Apps
If you know how to write the code for mobile platforms, you can sell apps. Games remain a perennial favorite and often dominate top-10 app sales lists. Games aren't the only option, of course. Apps span the entire spectrum of human activity, from personal finance and social media to health and fitness. As the Flappy Birds phenomenon demonstrates, simplifying a process -- whether banking or game play -- often trumps complexity and creates loyal customers.