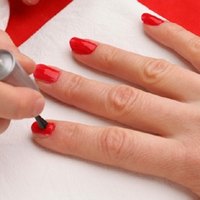 Whether you paint your nails yourself or get a manicure at a local salon, you want your polish job to stay looking good for as long as possible. Even a single chip on one fingernail can greatly compromise the look of your entire manicure. Since we use our hands so much in daily life, fingernail polish is more susceptible to chipping than toenail polish. There are, however, various things you can do to keep your nail polish from chipping and get the most out of your manicure.
Things You'll Need
Nail polish remover
Nail buffer
Nail polish
Clear top coat
Rubber gloves
Wipe your nails with nail polish remover, even if you don't have any prior nail polish on your nails. The nail polish remover will swipe away oils and debris as well, making a clean canvas for your polish application. When nails are clean, polish is able to adhere to them more strongly.
Buff your nails prior to polishing them. This will allow for a smooth, even surface when you paint them. Polish is less likely to chip off smooth nails.
Choose a high-quality nail polish. While you can find great deals on nail polishes, it may be worth your money to invest in a higher-end polish. Since they often contain superior ingredients, they are less susceptible to flaking and chipping.
Apply a protective top coat to your nails. Choose a clear top coat that purports its strengthening and protective qualities. Reapply the top coat every few days to keep the polish protected.
Let the polish fully dry before engaging in standard activities. If you disturb the polish too soon, it won't have time to fully bond with your nails, making it more likely to chip later.
Wear rubber gloves when you clean and wash dishes. The chemicals in most cleaning products eat away at polish, leading to chips. Just keeping your hands in water, as you do when you wash dishes, can reek havoc on your manicure. Rubber gloves will protect your nails from damage.