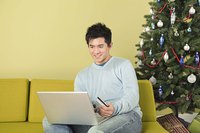 A PayPal debit card lets you access your available PayPal funds through an ATM withdrawal or make online or retail purchases as you would with a typical bank debit card. PayPal offers debit cards for personal and business accounts, but you can only earn cash back on its business debit card, which is available to PayPal premier or business accounts. You earn cash back by using the debit card as a credit card rather than making purchases using your personal identification number. PIN transactions don't qualify under PayPal's cash back program.
Qualifying PayPal Accounts
As of 2015, the PayPal Business Mastercard debit card is the only card eligible for cash back rewards, and the only way to get that debit card is with a PayPal premier or business account. If you don't have one of these accounts, log into your personal PayPal account and request an upgrade to a premier or business account by clicking on the upgrade link on the left side of your PayPal home page. If you don't have a PayPal account, sign up from the PayPal website. During the process you'll be asked if you want to upgrade to a premier or business account. If you do more selling then buying, a business account may be more appropriate than a premier account. You can have a personal account and a premier or business account, but you cannot have both a premier and separate business account.
Getting Cash Back
Apply for the business debit card via the link on your PayPal account page. You can enroll in the cash back program after you receive and activate your card. Once enrolled, you'll be eligible for cash back within 48 hours. You only receive cash back for signature-based or credit transactions. These are transactions for which you do not input your PIN. Online purchases are eligible as long as your purchase is processed as a credit transaction. Cash withdrawals at an ATM will not earn you cash back. At the end of each calendar month, PayPal will calculate 1 percent of these signature-based purchases and deposit that calculated amount into your PayPal account. As of 2015, you can expect the cash back in your PayPal account within the first five days of the following month. You won't receive any cash back if the calculated eligible amount is less than $1.
Tracking Your Cash Back Rewards
Click on the business debit card link on your PayPal home page to review your cash back earnings. PayPal tracks your earnings for each month, as well as for the entirety of your debit card activity. You can also view the value of eligible credit purchases vs. ineligible debit purchases for the month and year.
Other Card Considerations
If you don't use your debit card for at least one signature or online purchase in 12 months, PayPal will terminate your cash back program enrollment and you'll have to re-enroll. Unlike a debit transaction, your signature-based purchase might not be deducted from your PayPal account immediately. Some merchants, particularly gas stations, may verify your account with a small amount, such as $1, and then process the entire amount a few days later. In some cases, gas stations and other businesses, such as car rental agencies, will put an authorization hold against your debit card that is greater than the amount of the final transaction. Your funds will not be available until that hold is removed. You will earn cash back only on the amount of the final transaction -- not on the hold amount.