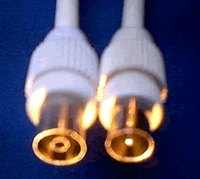 The price of cable television service or cable broadband Internet service seems to be rising steadily. The rate increases, however, are often unfair and attempted by cable companies that believe the average consumer simply isn't aware enough to notice a 10 percent to 15% increase in their bill. But in a newly competitive market where satellite and fiberoptic television services are becoming commonplace, it's rather easy to get your cable provider to lower their rates if you go about it the right way.
Things You'll Need
Get the rates of competitors. Go to the Website of competitor companies like Dish Network, Direct TV, AT&T or other local cable providers and find out what their pricing structure is for new customers for a service package that's similar to the one your current cable provider is providing.
The best possible deal, from a financial perspective, will be the one that you use to gain leverage over your cable provider.
Call your cable provider.
Explain to the representative that you're unhappy with your service rates.
Inform the service representative that you simply aren't able to afford their services anymore.
Inform the service representative of the competitive offer that you've been given by another company, listing all relevant details and showing that you have a true grasp of the offer.
Inform the service representative that unless they can match the other offer, beat it, or at least come very close to it, you'll need to cancel your service and switch over to their competitor.
Enjoy your newly lowered cable rates or switch to the better plan if they aren't willing to change.