With a distinct combination of colors and a rich song, rose-breasted grosbeaks are hard to miss. Attract these birds by creating a welcoming habitat and keeping your bird feeder full. The birds, seen primarily in the eastern and center parts of the United States, migrate to Central America before the U.S. winter. If you live in the western or southwest parts of the country, you may may catch a glimpse of the birds on their spring or autumn migration.
(BRIAN LASENBY/iStock/Getty Images)
Rose-breasted grosbeaks prefer semi-open urban and rural areas, woodlands and deciduous forests, and are often along streams and lakes. The loss of their natural habitat has reduced their numbers, but they are still relatively plentiful and not endangered. They are important contributors to a healthy ecosystem, dispersing plants when they eat seeds and then distribute them in their droppings.
Laura Beth Drilling/Demand Media
Somewhat more than one-half of rose-breasted grosbeaks' diet consists of insects, according to The Virtual Nature Trail at Pennsylvania State University New Kensington website. They also eat fruits, seeds, flowers, buds and raw peanuts. Provide a variety of fruit and nut trees and berry bushes to attract the birds. If possible, plant a combination of tall and short trees and shrubs, with taller trees on the fringes of your property and shorter shrubs near a bird feeder so they'll provide shelter when the birds feel threatened. Include evergreens, which provide year-round cover and protection. Consider reducing the size of your lawn to make room for wildflowers and tall grasses. Your garden will attract more birds if it isn't too tidy. For example, rake leaves loosely under trees and shrubs where the birds can forage for bugs.
Laura Beth Drilling/Demand Media
Accustomed to foraging for their food in woodland shrubs and trees, rose-breasted grosbeaks are attracted by open-tray, platform or hopper feeders with large areas for perching. Black oil sunflower seeds, which are rich in energy-giving fats, are on the top of the menu, but the birds also eat striped sunflower seeds, corn, thistle seeds and safflower seeds.
Laura Beth Drilling/Demand Media
Place a birdbath near trees and shrubs; rose-breasted grosbeaks need fresh water and a place to bathe, especially during hot weather. The best birdbaths have a shallow slope and can hold a 1- to 2-inch depth of water, similar to a natural puddle. A narrow lip on a birdbath provides a convenient place for the birds to perch. The birdbath should be cleaned at least once every week. Raise the birdbath to a safe height if cats visit your yard.
Laura Beth Drilling/Demand Media
Mature male rose-breasted grosbeaks are easily recognized by the combination of their black head, back, wings, throat and tail with their white wing patches and the bright, rosy triangle on their breast and wing linings. The males are duller and browner in fall and winter. The females are primarily brown with light and dark streaks; they display white crowns, white eyebrows and yellowish wing linings. Males and females measure 7 to 8 1/3 inches in length and have a large, pale bill. They use the bill to split open hard seeds as well as beetles and other large, hard-bodied insects.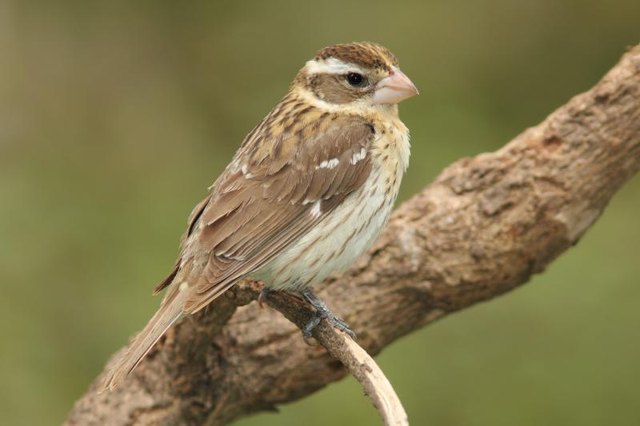 BRIAN LASENBY/iStock/Getty Images
Promoted By Zergnet