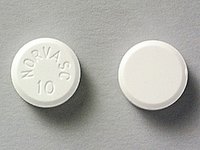 Blood pressure medications, like Norvasc, can do their job only if you take them properly. Skipping doses, not refilling a prescription, taking more or less than the prescribed dose or not following a doctor's instructions make it more likely that the high blood pressure will get worse. This article will discuss the proper way to take the prescription medication Norvasc.
Things You'll Need
Glass of water (at least 8 oz.)
Filled prescription of Norvasc from your doctor
Schedule an appointment with your doctor if you are experiencing symptoms of high blood pressure. These symptoms include: Dizziness, Fatigue, Low Exercise Tolerance, Nausea, Loss of Consciousness, Episodes of Confusion, Tightness, Pressure, or Pain in the Chest or Arms, and a Consistent Blood Pressure reading of 140/90 or greater or a Blood Pressure reading consistently higher than your baseline blood pressure.

Obtain a prescription from your doctor if you are diagnosed with high blood pressure. Be sure to fill the prescription as soon as possible to begin taking Norvasc. This will help to decrease the amount of symptoms experienced by high blood pressure.
Read the label on the prescription bottle. As soon as you get your prescription, make sure that it's your name on the label, and that the medication name and dosage is correct . Be sure to read the entire label each time before you take any of the pills.
Follow the instructions carefully as directed by your doctor. When taking any medication, like Norvasc, it is recommended to drink a full glass of water with your pills. Other fluids will work, but water is always best. Norvasc can also be taken on a full or empty stomach. Taking Norvasc on a full stomach may help to reduce any nausea that you may experience from taking this medication.

Take the medication at the same time everyday. Taking Norvasc at the same time everyday helps you to develop a routine that can be easily remembered, as well as maintaining a steady level of the medication in your body.

Remember to take your medication. If you miss a does, take it as soon as you remember. Do not take Norvasc if it has been more than 12 hours since you missed your last dose. Wait and take the next dose at your regular time.
Call your doctor or the Poison Control Center if you accidentally took too much Norvasc, or if you are experiencing any major side effects from the medication. These include: chest pain, irregular heart rhythm, signs of low blood pressure (dizziness, lightheadedness, or fainting), swelling or water retention, rapid weight gain, high blood sugar, and an unexplained rash, hives, itching, unexplained swelling, wheezing, or difficulty breathing or swallowing.

Schedule regular check-ups with your doctor to evaluate the effectiveness of the medication and your high blood pressure.