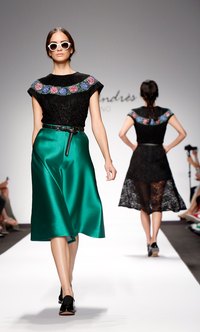 A particular type of weave -- a twill-like pattern characterized by an exceptionally smooth surface -- defines satin, which is traditionally made from silk. As a delicate textile, satin requires a bit more care than most other clothes in the closet -- whether you need to remove stains from your sleek satin blouse, elegant gown or lacy lingerie, a gentle touch is the key to successfully restoring this classic fabric.
Things You'll Need
Clean, lint-free cloth
Sponge
White wine vinegar
Chlorine- and bleach-free stain remover
Gentle, bleach-free detergent
Ammonia
Thick towel
Soak up as much of the fresh stain as you can with a clean, lint-free cloth, dabbing the satin lightly. For dirt stains, use the cloth to gently brush as much dirt free as possible. Dab the remaining stain using a sponge lightly dampened with white vinegar if you're treating bloodstains.
Immerse the satin garment in cold water and allow it to soak -- begin soaking immediately after the stain occurs to avoid permanent staining. After the first 15 minutes, gently rub the stain by hand, and then allow the satin to soak for another 30 minutes or so. If the stain has already set, soak the garment for several hours, adding a dash of bleach-free stain remover to the water. Add about 1/2 teaspoon of gentle, bleach-free detergent and a teaspoon of ammonia to the water if treating bloodstains. After the soak, give the fabric a final rinse with cold water.
Remove the article of clothing from the cold water and spread it out on a thick, clean, dry towel. Roll the fabric up in the towel to squeeze excess moisture from the satin. To avoid crinkling, do not twist, bunch or wring the satin. Spread the garment out evenly, and allow it to air-dry.
Apply chlorine-free stain remover to the stain according to the manufacturer's instructions -- this typically entails dabbing a thin layer of stain remover onto the stain and allowing the garment to rest for a few minutes -- if the initial soak doesn't do the trick. Before application, check the stain remover's label to ensure it's safe to use on satin. Repeat the soaking and drying process.