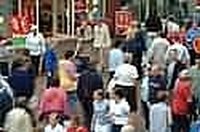 Some stores, fast food places, and other establishments, give out free stuff on your birthday. Here's how you can find some of these free offers.
Things You'll Need
internet connection
telephone
time
ID to confirm that it actually is your birthday
Bear in mind that it is always wise to call ahead and confirm that these free offers are still actually being given out, or that particular establishment participates in the free birthday offer. This will save you a lot of wasted time, gas, and frustration. So call ahead! You may be required to show ID, so be prepared and bring it along.
You may be aware that several ice cream places like Ben and Jerry's, Baskin Robbins, and some others, give out free scoops of ice cream, or a free cone, on your birthday.
Wal-Mart gives out a free birthday cake for a baby's first birthday, only. No other birthday freebies are given out at Wal-Mart that I'm aware of, although it never hurts to ask.
They were still doing this at my local Wal-Mart store last I heard, so if you've got a baby about to celebrate it's first birthday, ask at the local Wal-Mart bakery. If they don't seem to know what you are talking about, ask to see the bakery manager, they'll know. Better still, call ahead and do this. These are small, but very cute birthday cakes, and worth it for sure.
Movie theatres, especially chains, have been known to give out 1 free movie ticket on your birthday, so call around and ask. Don't just show up at the theatre expecting this, as not all movie theatres do this, and free birthday policy's can change.
Along this same line, a few video rental places give 1 free video rental on your birthday only, if you are a member. Again call ahead and confirm before driving to the video store.
Some fast food places and restaurants give free cake or dessert, or even a small meal on a persons birthday. Never show up expecting a free meal or dessert, without calling ahead and confirming that they actually do this though!
Krispy Kreme is said to give free donuts and coffee on a persons birthday, but I don't live near one so I haven't been able to confirm this.
Any fast food place or restaurant might give out something free on a persons birthday, so ask at your favorite eating establishments. Do this before your actual birthday. Always check as the birthday freebies are withdrawn from time to time.
Borders may give you a free cake, if you have a borders card and ID, on your birthday. They were still doing this last I heard. But, again, confirm before showing up expecting a birthday freebie.
Some possible places for free birthday treats, include Ihop, Applebees, TGIF, Outback, Taco Bell, Red Robin, Baskin Robbins, Burger King, Hometown Buffet, and Wendy's. Most of these freebies are a dessert of some kind. Call and confirm, ask to speak to the manager, and ask them about their free birthday specials, before showing up.
I have heard that a few car washes give a free birthday car wash, so you might check into that.