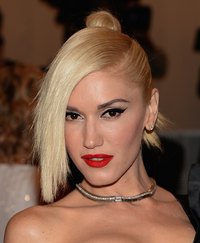 Edgy and adventurous, Gwen Stefani's instantly recognizable style has been captivating fans since she rose to fame in the mid-90s. While the singer has rocked just about every hairstyle imaginable, from pure punk to downright demure, her bright platinum hue and a few key looks have always been a part of her repertoire. To channel your inner rock goddess, be bold and lighten your locks or simply copy some of the No Doubt singer's signature styles.
Going Platinum
Opt to go platinum, Stefani's trademark color. Generally platinum works best with short or medium-length hair, like's Stefani's, which she normally wears in long layers beginning slightly above the chin and worn just below the shoulders. Your hair should be in good condition to withstand the harsh peroxide process. Find a reputable salon and expect to spend several hours, and perhaps more than one session, in the chair, especially if your hair is dark. Be aware that flaxen locks require high maintenance – Stefani has her roots done every two weeks. You'll also need to use deep moisturizing and conditioning treatments regularly to keep hair in good shape.
Lots of Knots
From a chic top knot and classic French twist to a head full of edgy mini-buns, Stefani has seemingly tried every type of updo under the sun. Add a front twist to a single, high top-knot by sectioning out bangs or a 2-inch piece of hair from along the front hairline. Twist the front section down its entire length back toward the bun, pinning in place around the base. Channel old-school Stefani with two playful top knots. Part hair in the center, continuing in the back to the nape. Gather each section into a high ponytail, twist each section and wind into a bun, leaving some ends out and secure with a few pins.
Retro Glamour
Inject some mid-century style into your repertoire. Stefani is often seen sporting 1950s and '60s hairstyles with a modern twist, including bouncy curls and heavily teased bouffants. Get a modern bouffant by setting your hair in hot rollers or curling with a large-barreled curling iron. Backcomb hair through the crown, spraying generously with hairspray to add volume and hold. Loosely sweep back the front section of hair from the top of the head to above the ears. Secure tresses into a ponytail at the back of the head, keeping the volume through the crown. Finish with a headband worn a few inches back from your forehead.
Tip of the Day
Add black tips to light hair. Stefani has been spotted more than once channeling her punk roots by adding a noir hue to the ends of her strands. If you don't plan on wearing this look permanently, consider temporary options, including hair chalk, which works on light and dark hair and is easily washed out, or any number of temporary hair color products.