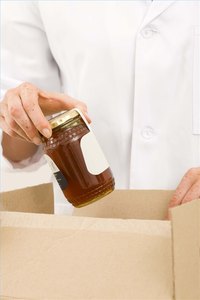 How to Use Honey for Beauty. For centuries, honey has been used in cooking and for medicinal purposes. As a natural humectant, it draws and retains moisture. As an antioxidant it's gentle to sensitive skin, making honey an ideal component of any beauty regimen. Add to that the fact that it costs pennies compared to high end beauty treatments and you'll find no matter what you use it for, you can't go wrong with honey.
Things You'll Need
Honey
Lemon juice
Almonds
Mix a pinch of finely ground almonds into a tablespoon of honey. Add a few drops of lemon juice and use as a daily facial scrub. The honey will help sooth and moisturize as the almonds work to exfoliate your skin.
Add a quarter cup of honey to your bath for a sweet smelling soak. It will leave skin feeling silky smooth and hydrated.
Dab honey mixed with a little cinnamon directly on pimples and blackheads to help reduce redness and swelling. Do this at night before going to bed and rinse off in the morning. Honey is natural acne medicine that's much gentler to skin than over the counter beauty products containing alcohol.
Use honey as a deep conditioning treatment for your hair. Mix a half cup of honey with two tablespoons of olive oil. Work it through your hair and cover with a shower cap for 20 minutes. Then shampoo and rinse as usual.
Keep your breath fresh by gargling daily with a teaspoon of honey and some cinnamon powder mixed in warm water.