How to Make a Zorro Costume. Making a Zorro costume is one of the easiest things in the world to do! Halloween is approaching, it's time to start thinking about how to turn the average Joe into a dashing Spanish Robin Hood. All it takes is a little imagination! Read on to learn more.
(Kris Robertson/Demand Media)
Things You'll Need
Black trousers

Black shirt (Renaissance type shirt is best)

Black fabric

Red fabric (if making sash)

Black ribbon

Black thread
Sewing Machine or needle and thread

Black boots

Play sword (foil)

Black gloves (optional)

Black Zorro hat (optional)

Scissors
Step 1
Find or buy a pair of black trousers and a black, long-sleeved shirt. Go online and buy a black "Renaissance" shirt. This is a shirt that has no buttons, a vee neckline and a collar, and full sleeves, like a pirate's shirt, and cuffs.
Kris Robertson/Demand Media
Step 2
Make a black cape by taking about 2 1/2 yards of black material (for an adult) and sewing a black ribbon across one end. Drape across the shoulders and tie under the shirt's collar in front.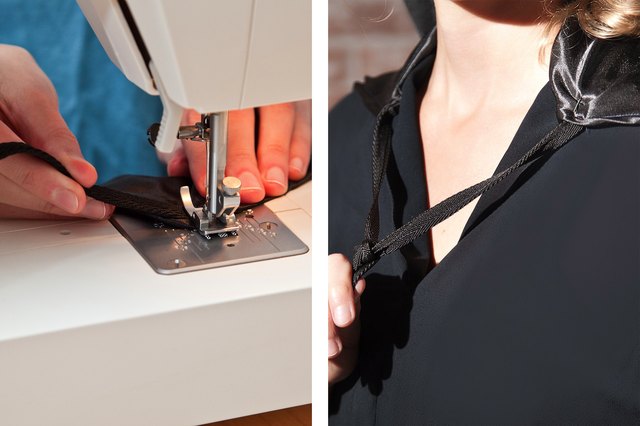 Kris Robertson/Demand Media
Step 3
Create a sash by using a length of red inexpensive material. About six inches wide works well. Make sure that there is enough length to go around the waist and still leave about twelve inches to drape down over one hip. Cut "fringe" at the ends of the sash. A long red scarf can also be used as a sash.
Kris Robertson/Demand Media
Step 4
Take a piece of black material and drape it over the head. Figure the correct measurements needed to form a bandanna. Cut out the mask from same black material and tie around the head again. Use a piece of chalk to mark where the holes should be cut for the eyes.
Kris Robertson/Demand Media
Step 6
Wear black gloves. A "Zorro" hat and mask can be found in most stores' Halloween aisle, or online. However, the bandanna works without a hat. Wear black boots.
Kris Robertson/Demand Media
Step 7
Draw a thin, black moustache on the upper lip with a black eyeliner pencil. It's a good idea to look at photos of Zorro from the old series or Antonio Banderas' film in order to get the shape just right!
Kris Robertson/Demand Media
Step 8
Finally, don't forget a sword! Buy a foil or long narrow sword at a discount store on the Halloween aisle. Make sure it has a sheath. Take a piece of black material about two inches wide and long enough to tie around the hips. Loop the material around the sheath and tie at an angle, like a gun holster.
Kris Robertson/Demand Media
Tips & Warnings
Tee shirt fabric is good for making this kind of mask and cape, however, be aware that it does stretch. Choose a fabric that has the least amount of "give" to it.
Make sure the eye holes are not cut too big. Keep them only slightly larger than the person's eyes.
A foil is a narrow dueling sword. When buying a play sword, choose one that is long and narrow.
Promoted By Zergnet