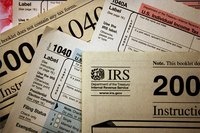 How to Fill and File IRS Form 1040-V. IRS Form 1040-V is a payment-voucher statement that a taxpayer may use to accompany payment for personal-income taxes owed on Form 1040. Although there is no penalty for failure to fill out and file Form 1040-V with your payment, the IRS encourages use of the form for more accurate and efficient payment processing.
Things You'll Need
Completed IRS Form 1040
IRS Form 1040-V
Check or money order for amount due
Fill out IRS Form 1040-V
Begin to fill out Form 1040-V by entering your social-security number or the first social-security number shown on a joint Form 1040.
Enter the second social-security number shown on your joint Form 1040. If your filing status is "single" or "married, filing separately," leave this line blank.
Enter the amount you are paying with Form 1040-V. Normally, this amount will equal the "Amount you owe" line from your tax return. If you are paying less than the amount you owe, you may be subject to penalties and interest.
Print your name and address clearly on line 4, with your spouse's name if you are filing a joint return. You do not have to sign Form 1040-V, but be sure that Form 1040 and your payment both bear your signature.
File IRS Form 1040-V with Your Payment
Make your payment in the form of a check or money order payable to the "United States Treasury," with your name, address, social-security number and telephone number on the check or money order.
Mail your IRS Form 1040-V with your payment to the mailing address shown for your state on the second page of Form 1040-V. You can use an official IRS envelope or any appropriate envelope that clearly displays your return address on the outside.
Check for the correct mailing address on the IRS website if you do not have the address listed on the second page of Form 1040-V (see Resources below). Just click on the state where you live, and use the address under the column that reads, "And You Are Enclosing a Payment."