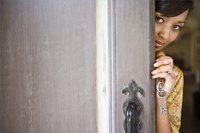 How to Deal With a Shy Coworker. While some of us may feel reluctant to meet new people or make eye contact while speaking, people who are shy can find these experiences debilitating. Shy people actually can feel pain when they practice any kind of assertiveness. Often shyness is mistaken for rudeness or self-absorption. Once you have determined that a coworker suffers from shyness, you can deal with and interact effectively with the person.
Engage your coworker in small talk that does not require revealing any personal information. Let him or her feel comfortable around you.
Reveal personal information about yourself in very small doses. When you see the person back away, back off yourself; wait for your coworker to respond once again. It can be a slow process to break through the shyness of a coworker, so be patient.
Invite the person to a one-on-one lunch or coffee. Ask mild probing questions in hope he or she will reveal the feelings that make them shy. Once the person is more comfortable with you and knows you have only their best interests in mind, they may come to you for help.
Make introductions for your new friend. Include him in conversations. Ask questions meant to draw the person into discussions.
Allow your shy coworker to retreat when situations become stressful. Pushing doesn't work, but will only send the person back into her shell.
Praise your shy friend when he deals well in a situation. As with most of your interactions, this compliment should be done quietly. Do not put the person on the spot or bring attention to the incident. Encouragement goes a long way toward overcoming shyness.