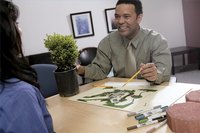 How to Start a Landscaping Business. Maybe you're tired of working for "the man" and having him profit from your green thumb--or you're sick of wasting your time and talents on your own garden when you could be working on someone else's and profiting. Well, my friend--a landscaping business may just be what the doctor ordered. Here are some steps to help you get started in this fast-growing and lucrative profession.
Things You'll Need
Landscaping and business skills
Lawnmower
Weed Eater
Rake and Broom
Hand tools
Reliable Truck
Trailer (if needed)
Cell Phone
Computer
The first thing you need are clients. If you already have a list of satisfied customers and won't be stepping on the toes of your old boss, by all means contact them. And even if you are stepping on toes, but you have something better to offer, contact them as well. (It helps if your old boss wasn't all that great to you.)
Check the going rates in your area for landscaping. Since you're just getting started it's best to go a little lower, but don't undersell yourself.
Offer incentives such as free service in exchange for referrals or a discount on the first visit to new customers. Include free estimates and consultations.
Target the neighborhoods you've already worked in since there may already be built-in fans of your work. Send out mailers or stick fliers or 4x6 inch cards on gates or in mailboxes along those streets. Do this several times a year around the time when landscaping is most needed.
Look for neighborhoods that you haven't been in yet, which are old enough or new enough to likely need your services. Send mailers or distribute cards or fliers to those neighborhoods as well.
Have your name and a memorable logo on your truck with your phone number clearly visible, as well as your website address if you have one.
List your business in free or inexpensive phone/Internet directories under "Landscape Services." Advertise in the classified section of local newspapers. You might also list with a service that will prescreen your company and send your quote to potential clients.