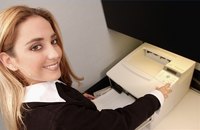 How to Receive a Fax. You can receive a fax with a standalone fax machine, an all-in-one printer/scanner/fax, an Internet fax service or a fax software program installed on your computer. Follow these steps to do any of the above.
Things You'll Need
Internet access or a phone line
Fax machine
Faxing software
Internet faxing service
Using a Fax Machine
Check that you have properly loaded the fax machine's toner or ink cartridges. Confirm that the machine has enough paper.
Connect the fax machine to a working phone line.
Turn on the fax. Most machines are ready to receive when they are powered on. When someone transmits a fax to you, wait for the document to finish printing. Retrieve it after it arrives in the output tray.
Using an Internet Fax Service
Select a software program such as Winfax Pro or choose an Internet fax service.
Install and configure the fax program or service. Use the default settings at first. Later, you can modify the settings for your specific needs.
The fax program or service will run in the background on your computer. When a fax arrives, a visual prompt or tone will notify you. Click on the prompt or open the fax program or service to read the incoming fax.