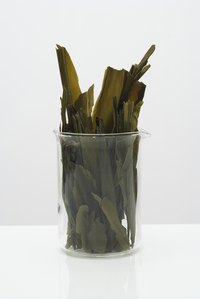 Although long known for its healing and detoxifying abilities, seaweed is now increasingly being used as an antiaging ingredient in skin-care products. The natural botanical's content is attributed to restoring skin by combating and preventing wrinkles and signs of aging. Seaweeds' repairing, regenerating and moisturizing benefits can be attributed to their cocktail of essential vitamins and minerals. A 2010 clinical study by manufacturer Maritech Reverse as well as another 2010 test by manufacturer BASF Beauty Care (both originally published on website Cosmetics Design) on the effects of products containing seaweed extract as a key ingredient found a significant improvement in the subjects' skin tone, smoothness, firmness and elasticity, as well as a decrease in wrinkle depth.
Things You'll Need
Seaweed extract-infused serum
Seaweed-infused moisturizer (optional)
Instructions
Wash your face with a mild cleanser twice daily, using gentle massaging motions or light, circular motions to help eliminate dead skin cells and promote circulation in the skin. Avoid scrubbing too hard as this can irritate the skin and cause redness.
Apply toner to cleansed skin, using a cotton ball or pad. Pat off any excess moisture with a tissue. Do this twice daily, if desired.
Apply a seaweed-infused serum to the face in the morning and evening, paying close attention to areas prone to dryness and sun exposure. Allow a few minutes for the serum to absorb into the skin.
Apply a seaweed-infused moisturizer twice daily if you have a very dry complexion.