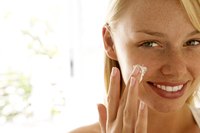 Using facial serums, toners, creams and moisturizers all at the same time can become confusing. To get the most benefits out of your beauty products, you must apply them correctly -- and in the right order. It's best to put skincare treatments on in the morning after you cleanse or exfoliate, ensuring you layer your products accurately to avoid any skin distress or breakouts. Products should be layered from lightest to thickest for the best results.
Things You'll Need
Cleanser
Toner
Prescription creams or medicines
Eye cream
Skin serum
Moisturizer
Sunblock
Primer
Foundation
Cleanse your face with the proper cleanser for your skin type. If you have sensitive skin, use a gentle cleanser. Once or twice a week, you can substitute an exfoliant instead of cleanser, but you shouldn't use an exfoliant more than a couple of times a week, as it can be harsh on skin.
Swipe on a toner to soothe the skin and prepare it for heavier skin products. Toners are great for sensitive skin and can help soothe the skin after it's been cleansed or exfoliated. Some toners are extra hydrating which is also good for dry skin.
Use any prescription or medicated creams or treatments before you put other, heavier products on. This could include retinol or treatment for red skin such as rosacea. Apply medicated creams and allow them to dry for a few minutes before progressing.
Dot eye cream around your eyes. Eye cream helps reduce the appearance of fine lines and helps reduce puffiness around the eyes.
Squirt a dime-sized amount of serum into your palm and apply it to your face with your fingertips. Antioxidant serums work well for all skin types. They are light and sometimes have an oily consistency, so they need to go under thicker creams and moisturizers.
Massage your moisturizer into your skin. This helps seal in all of your other products, and reduce dryness. Many moisturizers also have added benefits such as anti-aging properties, and some may even have sunscreen.
Add sunblock over your moisturizer if your daily moisturizer does not include a sunblock. Always wear a sunscreen daily to avoid damage from UV rays.
Finish your face with a layer of primer. This helps your foundation adhere to your skin better and creates a smooth surface for makeup. Primer also helps fill in your pores.
Layer on foundation to prepare your skin for the rest of your makeup.