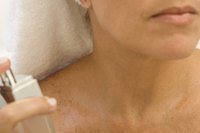 Perfume should be a gentle hint of fragrance that lingers behind you, not a cloud of scent that announces your arrival before you walk into the room. An overdose of perfume creates a negative image, even if you are otherwise well groomed. It can also cause allergic reactions like watering eyes, sneezing or congestion in sensitive people -- definitely not the effect you are looking for. Remember that less is more when spritzing on perfume, but if you've gone overboard, you can tone down the fragrance.
Things You'll Need
Wet a cotton ball with rubbing alcohol.
Rub the cotton ball over your skin where the perfume was applied.
Rinse the rubbing alcohol off your skin.