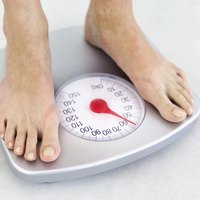 No one likes hearing a lecture about how they need to lose weight, and if you're getting a physical for life or health insurance, your weight can affect your rates. It's neither reasonable nor healthy to try to go on a speed diet a few days before a physical, but eating a healthy diet and getting regular exercise a few weeks beforehand can help you shave off some extra pounds. The effects of exercise and a proper diet can also help you be healthier -- with lower blood pressure or better blood circulation -- by the time your physical rolls around.
Take stock of what you're eating. If you're living off of fast food or empty calories, these are the first things that need to go. Not only can these foods pack on the pounds, they can also affect your health in other ways. They'll deprive you of the healthy nutrients you need and can raise your cholesterol. Focus on eating healthy, low-calorie foods such as fruits and vegetables, and get your protein from lean meats or fish.
Determine how many calories you need to eat each day to reach your ideal weight. The number of calories you'll need varies with your weight and activity level, but if you eat more calories than you need, you'll either gain weight or maintain your current weight. You'll need to create a caloric deficit by dieting or exercising to reach your daily calorie goals. A combination of diet and exercise is the fastest way to lose weight.
Get daily cardiovascular exercise. Cardio burns more calories than calisthenics or strength training, so it's the best method if you're trying to lose weight relatively quickly. Try swimming, running, dancing, an aerobics class or bicycling. You may need as many as 300 minutes of cardio per week to lose weight, but the amount you'll need depends on the type of cardio you practice and your weight-loss goals. For example, Harvard Health Publications reports that a 185-pound person can expect to burn about 133 calories dancing at a slow pace for 30 minutes. The same person, however, will burn about 355 calories running at five miles per hour for 30 minutes.
Find other ways to improve your health. Taking a multivitamin can help you ensure you're getting all of the vitamins and minerals you need, and controlling stress can be key for keeping your blood pressure low regardless of your weight. The Mayo Clinic recommends meditation as one method for managing stress, and states that some research points to benefits such as reduced cancer risk, fewer negative emotions, better heart health, better sleep and fewer allergies.