Even if you start after 50, resistance training -- including exercises such as the dumbbell side bend -- helps you retain mobility and combat the process of losing muscle mass as you age. In 2011, Arizona State University and the journal "Medicine and Science in Sports and Exercise" reported that with regular resistance exercise, seniors gained an average of 2.5 pounds in muscle mass over the course of only five months. Low-impact side bends make an excellent addition to your lifting regimen; though weight training requires some special consideration for seniors, actually performing this exercise is the same for an older man as it is for a younger exerciser.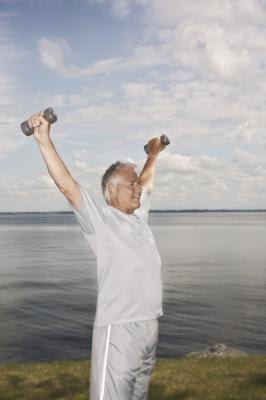 (Brand X Pictures/Brand X Pictures/Getty Images)
Step 1
Consult your doctor before starting a weight-training program if you're over the age of 45.
Step 2
Stick with low weight on the dumbbell, especially if you're new to this exercise. Try about 5 or 10 pounds at first and increase in 5-pound increments as you grow more comfortable with the exercise. Ten to 15 repetitions on each side works for intermediate senior exercisers, but it's okay to start with five reps if you're new.
Step 3
Stand with your feet at shoulder width and your back straight. Hold a dumbbell in your right hand with your palm facing inward, letting your arm hang down so the dumbbell rests just under your right hip. Place your left hand on your left hip. Keep your head up and face straight ahead.
Step 4
Bend at the waist to the left as far as you can, keeping your back straight. Tighten your abs and hold for a count, then return to the starting position. This completes one repetition of the side bend. Change hands and switch sides with each set of side bends to ensure a balanced workout.
Step 5
Breathe regularly throughout the exercise. Inhale as you bend and exhale as you straighten up. Never hold your breath during exercise, or you risk raising your blood pressure.
Promoted By Zergnet