The elliptical is a beneficial way to get the most out of a cardio exercise because it engages all of your major muscle groups. Stretching before and after this type of workout can prevent injury, increase your range of motion, enhance your performance and decrease muscle tension. Try dynamic stretches before using the elliptical to increase blood flow to your tendons and muscles while saving the traditional static stretches for the end of your workout.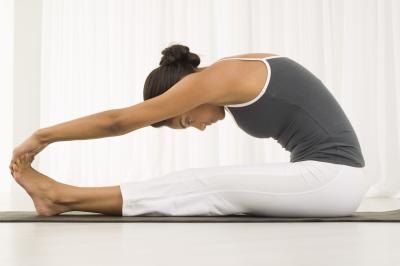 (Jupiterimages/Pixland/Getty Images)
Step 1
Prepare your body for activity with a brief warm-up. Resting muscles perform at lower levels than warm muscles. Move around for five to 10 minutes by walking, jogging in place, swinging your arms or doing jumping jacks.
Step 2
Perform the straight leg march for your lower-body muscles. Place your arms straight out to the sides, kick one leg straight out while pointing your toes upward and reach with the opposite hand toward your toes. Lower your leg and repeat on the opposite side for up to 10 repetitions.
Step 3
Do inchworms to stretch your upper-body muscles. Bend at the waist, place your hands on the floor and walk your hands forward until you are in a pushup position. Slowly walk your feet toward your hands and repeat for eight to 10 repetitions.
Step 4
Engage in static stretching at the end of your workout. Move slowly into a pose, breathe normally, do not stretch beyond gentle tension and hold each stretch for 15 to 25 seconds. Sit on the floor, stretch your legs outward and reach as far as you can to stretch the lower-body muscles. Reach your right arm across your chest and hold the back of this arm with your left arm to stretch your upper body. Repeat with the opposite arm.
Promoted By Zergnet