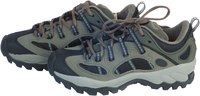 Ever wonder why sneakers feel so great while trying them on in the store but then so painful after wearing them a few times? New sneakers haven't yet conformed to the unique shape of your foot and end up rubbing against tender skin. Sneakers will naturally break in over time -- often after unfortunate weeks of blisters and abrasions. However, there are ways to trick a sneaker into molding to your foot's shape. Following some simple steps will quickly break in your sneakers so that you can get back outside and show off your new kicks in record time.
Things You'll Need
For two nights, wear thick socks and put on your gym shoes when you're just sitting around the house. Your feet swell during the day, so they'll be their largest at night. This will allow the shoes to stretch without giving you the blisters you'd get from walking around during the day.
Soak your shoes underwater for two minutes and then, wearing thick socks, walk around your house with the wet shoes on until they dry. This will allow the shoe to mold to your feet. Before soaking leather sneakers, be sure to waterproof the outside of them as water will damage the leather.
Place a pair of heel liners on the inside heel of the sneakers to help break them in and keep your heels from slipping and rubbing while the shoes stretch. You can purchase heel liners from your local convenience store.
Knead the shoes carefully if you still feel them to be too stiff. Grab by the heel and knead the shoe back and forth to loosen the sole.