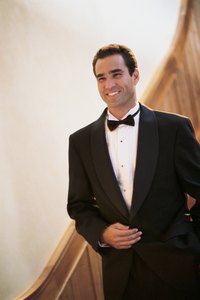 Many formal events such as weddings, dances and dinner parties call for men to wear a tuxedo. If you own a tux and don't wear it very often, you may want to temporarily store it. But don't just hang it up in the closet like your other clothes. Improper storage can cause several problems, including insect damage, mold development, color fading and stains. Storing your tuxedo properly will allow the garment to maintain a like-new condition for years.
Things You'll Need
Take your tuxedo to a dry cleaner before putting it in storage. Dry cleaning will remove stains or food particles that can attract fabric-destroying insects such as moths.
Remove all items from the tuxedo's pockets, such as money, keys and food. Leaving certain objects in the pockets may cause staining or fabric deformity.
Unbutton the tuxedo, then place it flat inside a protective suit bag.
Put a few moth balls in the bottom of the bag to help prevent insect damage.
Zip the bag, then hang it on a thick plastic or wooden hanger. Never hang the suit on a wire hanger, since this can cause the fabric to stretch or deform.
Hang the tuxedo in a dark, cool place. Avoid packing other garments tightly around it.