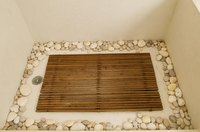 Spray tans provide a healthy alternative to sun tanning and they are attractive to salon visitors who desire a sun-kissed glow. Creating an atmosphere in your salon that reminds customers of the ocean, summer holidays and tropical locations is a way to attract regular clients. If you decorate the room, you can provide more than just a tan, you can sell a dream.
Things You'll Need
Wood flooring packs
Tape measure
Wall paint
Curtain
Strong wire
Wall hooks
Mounted pictures of sea life
Picture hanging hooks
Leather sofa
Side tables
Magazines
Tropical pot plants
Scented candles
Candle stands
Beach ornaments
Measure the size of your floor and select fawn coloured wood flooring packs from your local DIY store. Lay the floor evenly and ensure the base of the spray tanning area is free of cracks and gaps.
Paint the surrounding walls in a colour that is light and represents the ocean. Pale blue and turquoise hues work well. Partition the spray tanning area by fastening hooks to opposite walls, and thread your curtain onto strong wire, looping the wire edges around the wall hooks. Check you can easily un-loop the wire edge to move the curtain and allow clients in and out of the spray area.
Fix picture hooks to the surrounding walls so that a hung picture will be visible to the eye line. Select a range of images that have a theme running through them; beaches of beauty, women tanning on a white beach, bronzed beauties swimming in the surf, and similar images are suitable. Hang one image per wall.

Arrange the waiting area with comfortable leather sofas that people can sink into and side tables with summer magazines. Display tropical pot plants.
Put one or two candles onto candle stands in the area next to the curtain partition to maximise the effect of their scents. Light scented candles and ensure you have chosen marine or coconut aromas that mimic the scent of poolside or beach holidays.

Place around the waiting area beach ornaments for a final touch that creates that feeling of escape. Starfish, shells and smooth stones are appropriate decorative items. They could also be placed in the corners of the tanning area.