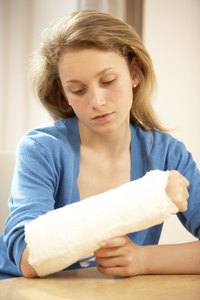 According to the Mayo Clinic, the most common way to break your wrist is falling with an outstretched hand. Immobilization is often the form of treatment to ensure bones heal properly for the future. Dressing may be a difficult task with a cast on your wrist, but there are ways to make this process easier.
Things You'll Need
Short-sleeved or sleeveless shirts
Assistive dressing devices
Wear shirts with short or no sleeves to make it easier to slip the clothing item over the cast. If the weather does not allow this, select shirts made of stretchy material, such as spandex or Lycra, which will easily fit over the thick cast material.
Place the sleeve of your shirt over the arm of your cast first. Doing so allows you to move your injured arm the least amount possible during dressing.
Purchase a large, dark-colored man's sock and cut the foot end off. Place this over your cast if you wish to make it look inconspicuous at work or other formal events. This also helps protect your clothing from the pilling that results from the cast rubbing against your clothes.
Choose pants that have an elastic waist, rather than a button or tab. Some wrist casts immobilize your thumb, and this task is difficult without the use of your hand.
Purchase assistive dressing devices made to help you put on shoes and socks with only one hand. Ask your physician, physical therapist or occupational therapist for a list of medical supply stores in your area that carry these items.
Choose a shawl, rather than a jacket, that will rest over your shoulders. This eliminates the difficulty of removing a jacket in the fall or winter.