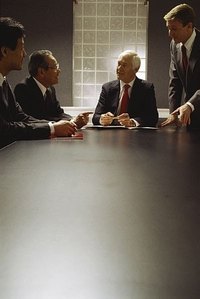 Many people hate negotiating, but with a few simple tactics, it can be rewarding and fun. The following steps relate mostly to making purchases but the overall ideas--research the market, be upbeat and positive, and know what something is worth to you--can be applied to almost any negotiation. Check out the eHow related article on How to Be a Savvy Consumer as well.
Do your research ahead of time to find the best deals. If you're looking for consumer goods, the Internet is a great place to look at prices and features. Use online comparison tools like ConsumerReports.org, Yahoo Shopping (shopping.yahoo.com), and DealTime.com. If you're negotiating a salary increase, know what other people in your profession are making. If you want to buy a pedigreed puppy, find out what they're going for.
Know what an item is worth to you and set an upper limit on what you're willing to spend. It's easy during negotiations for the game to shift. A salesperson might offer a price reduction on one item as long as you buy an additional one. Keep your needs and your goal well defined and stick to your limit. This also applies to salary negotiations: Securing a raise may necessitate additional responsibilities.
Adopt a direct but lighthearted attitude. Nobody wants to deal with a sourpuss. This applies to salary negotiations as well as purchases. Your boss will deal with you more openly if you are able to state your position clearly, including why you deserve that raise. Practice salary negotiations with a pro--see eHow's article How to Hire a Career Counselor.
Remain indifferent when making purchases. Hardball price negotiation requires the seller to believe that you are willing to walk away. To be convincing at this, you must indeed be willing to walk. Practice with small purchases and you'll see this is true. Remember that most consumer goods, even major purchases like cars, are not "one of a kind," "rare," or "hard to find," so don't be swayed by these claims. This tactic has limited application for salary negotiations unless you are truly ready to quit. Threatening to quit is not likely to secure your raise.
Make the seller (or your boss) want to say yes. Most people want to be deal makers and problem solvers. Salespeople want to sell. Your boss wants productive and loyal employees. You have a problem (the washing machine is too expensive, your salary is too small) and you want their help. They are the important decision makers and you will have a great deal of respect for them if they can solve this problem.
Hire professional help for complicated negotiations. Real estate transactions, for example, are too complicated for most nonprofessionals. See the eHow Related Article on How to Sell a House Without a Real Estate Agent.