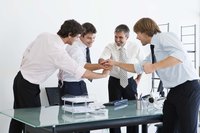 It's possible that the first time you experienced a group project was in elementary school. It is also possible that you were first exposed to the "floating" team member during that very first project. A floater does as little as possible to help with, but is happy to take equal credit for a project. When you were a kid, you could always tell the teacher. As an adult, it's likely that you want to find a more professional way to deal with a coworker who doesn't pull his weight.
Have a discussion with your coworker. You're colleagues and you're both adults, so approach your coworker as an equal. In the least demanding or condescending manner possible, tell your coworker that you want the finished project to be a true group effort that you both can be proud of. Ask for his input, and let him know how much you value his opinion. It could be a simple lack of confidence that is preventing him from contributing.
Take the lead and take credit for it. If, after having a discussion with your coworker, you realize that she's not going to be a full partner in your project, declare yourself leader and offer to tackle the tougher aspects of the job. Let her know that by assuming more work, your name will be listed as project leader. The idea of someone else getting more credit than her may be enough to spur her into action.
Hand out assignments. Sit down with your group and divvy up assignments based upon individual strengths. Make it clear that each member of the group is responsible for their own assignments, although they are free to ask for a hand when needed. Rather than focusing on the team member who is not carrying his weight, focus on your own work. You can come back to his pieces of the puzzle as a team after you've each completed your own.
Add a "contact list" to the finished project. A contact list simply outlines who completed each segment of the project. For example, you may present the list with the final project and say, "Although it was a group effort, we wanted you to be aware of who worked on each portion of this project so that you would know who, specifically, to contact with any questions regarding that piece." The lagging coworker is more likely to do her fair share if she knows that everyone is going to be aware of her efforts.